National Handwashing Awareness Week is December 2-8, 2018.  Washing our hands is important no matter the time of day.  Clean hands help prevent sickness by reducing the spread of germs.  Personal hygiene begins and ends with your hands!
---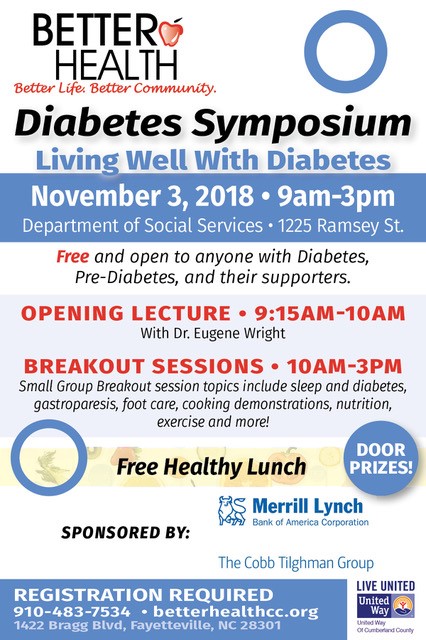 Do you know who suffers from or would like to more information about Diabetes?  The event is hosted by Better Health and sponsored by the Cobb Tilghmann Group of Merill Lynch.    The event is FREE November 3, 2018, from 9:00 am to 3:00 pm.  Registration is required.  For more information contact Better Health by calling (910) 483-7534, betterhealthcc.org or visit 1422 Bragg Blvd, Fayetteville, NC  28301. 
---
Now that summertime is over, lets warm up as temperatures cool down by staying active. Remember during the fall season, raking the leaves counts! Learn more Tips for an Active Lifestyle and how to Be an Active Family. 
---
Summer is well underway and let's continue to enjoy the season by having fun, staying hydrated, eating healthy, and participating in physical activity.  Be sure to check out  Summer Food, Summer Fun for many great ideas to keep everyone motivated to be healthy.  
---
Although the weather is not predictable, Spring still has sprung! Celebrate the warmer season by finding new and creative ways to get active outdoors when the weather permits. Be sure to engage in activities you enjoy so you will be more likely to incorporate it into your daily routine. Try these 10 Tips: Physical Activity at Home, Work, and Play and/or Tips for increasing your physical activity. For more healthful tips, check out wellness.ccs.k12.nc.us.
---
What you drink is as important as what you eat. Many beverages contain added sugars and often little or no nutrients, while others may provide nutrients but too much fat and too many calories. Jazz up your water by adding slices of fruit or fresh mint, rosemary, or basil. Try these Tips for Making Better Beverage Choices. For more helpful healthy tips visit wellness.ccs.k12.nc.us.
---
When eating out, it can be easy to make poor choices due to convenience. Take time while at restaurants to decode the menu. Look for items that are baked, broiled, grilled, poached, steamed, boiled, or roasted. Take advantage of the 10 Tips: Eating Foods Away from Home or ideas from MyPlate, MyWins Tips: Make Your Takeout Healthier. 
---
Tired of the same old meals? Discover the many benefits of adding vegetables and fruits to your dish. They are low in fat and calories while providing fiber and other key nutrients. Vegetables and fruits don't just add nutrition to meals. They can add color, flavor, and texture. Explore the creative ways to bring healthy foods to your table. Check out, Liven up your meals with vegetables and      fruits today. 
---
Most of us get more sodium than we need. Even if you go easy on the salt shaker, your sodium intake may still be high. Packaged and prepared foods such as ready-to-eat products or restaurants meals are common sources of sodium. Learn about common sources of sodium. Begin the new year by making small changes that lead to big wins. For more healthy tips, visit wellness.ccs.k12.nc.us.
---
During the cozy months, we often try to find extra time to relax with loved ones. Let's stay on track with eating nutritious snacks by prepping ahead of time. Make batches of oatmeal, yogurt parfaits, or nut mixes and divide into small containers or jars. These handy portions help make your quick choices healthy choices too! Be sure to try out these Kitchen time-saving tips. Learn ways to make meal planning easy. For more healthful tips, check out wellness.ccs.k12.nc.us.
---
Lately, it can be difficult for all of us to pull away from the TV and cell phones. During National Childhood Obesity Month, let's serve as role models by trying these tips for Reducing Screen Time and help your kids get active! Print out the Family's Healthy Adventure and enjoy the many ways you and your family can get healthy together! For more health tips, visit wellness.ccs.k12.nc.us.
---
One in 3 children in the United States is overweight or obese. Childhood obesity puts kids at risk for health problems that were once seen only in adults, like type 2 diabetes, high blood pressure, and heart disease.
The good news is that childhood obesity can be prevented. In honor of National Childhood Obesity Awareness Month, CCS encourages your family to make healthy changes together.
Get active outside: Walk around the neighborhood, go on a bike ride, or play basketball at the park.
Limit screen time: Keep screen time (time spent on the computer, watching TV, or playing video games) to 2 hours or less a day.
Make healthy meals: Buy and serve more vegetables, fruits, and whole-grain foods.
Taking small steps as a family can help your child stay at a healthy weight.
For more information, visit wellness.ccs.k12.nc.us.
---
Most people know that eating fruits and vegetables is important for good health, but most of us still aren't getting enough. This September, let's participate in Fruits & Veggies – More Matters Month. Eating a healthy diet with plenty of vegetables and fruits can help you lower your risk for heart disease and some types of cancer, maintain or reach a healthy weight, and keep your body strong and active. Here are some ideas to help you and your family fit more fruits and vegetables into your day. Try keeping a bowl of fruit handy where the whole family can see it, cut up fruits and veggies ahead of time so they're ready for quick, healthy snacks, and challenge your family to try a new veggie or fruit every week. Remember, eating more fruits and veggies can be fun and worth it!
---
Tip of the Week from MyPlate.gov
Does the disaster in Texas by Hurricane Harvey make you feel a little more grateful for the things you have? Let's always be mindful not to be wasteful. Reduce your food waste by planning a weekly menu, making a grocery list, or freezing extra food. This could save you big money each year! Post Let's Talk Trash to inform students and staff about food loss and waste. Learn tips on how to Plan Your Weekly Meals and check out the USDA's FoodKeeper App to alert you to use food items before they are likely to spoil. For more healthful tips, visit wellness.ccs.k12.nc.us. 
---
Tip of the Week from MyPlate.gov
Trying different things can appear challenging such as being a new student at a school or taking a class for the first time. You have to be patient when introducing new things. The same goes for food. It may take more than a few tries for a child to accept an unfamiliar item. Check out these Resources for picky eaters and Handling a "choosy" eater. For more healthful tips, visit wellness.ccs.k12.nc.us.
---
Tip of the Week from MyPlate.gov
As the temperature continues to rise, let's take advantage of some health tips to keep us cool. Carry a reusable water bottle with you throughout the day. It can save you time, money, and make choosing a healthy beverage easy! Try at least one of the 10 Tips for Better Beverages. View more beverage tips + a video on making small changes for a healthier drink. Sip smart! For more healthful tips visit wellness.ccs.k12.nc.us. 
Tip of the week from MyPlate.gov
Do you dread going grocery shopping? Let's put some fun into it by playing grocery store bingo. Use grocery shopping to teach kids about food and nutrition. Talk about where vegetables, fruits, protein food, dairy, and grains come from. Help them make healthy choices. For more healthy tips, be sure to visit wellness.ccs.k12.nc.us.
Tip of the Day from Action For Healthy Kids
Did you know? A study found that kids gain weight more quickly during summer vacation than during the school year. Maintain the momentum your school created this year by encouraging students and families to continue to eat better and move more this summer. The Health at Home section of Game On has ideas for recess at home, healthy summer snacks and creative ways to be active as a family. For more healthy tips, be sure to visit wellness.ccs.k12.nc.us.
---